Blanky!!!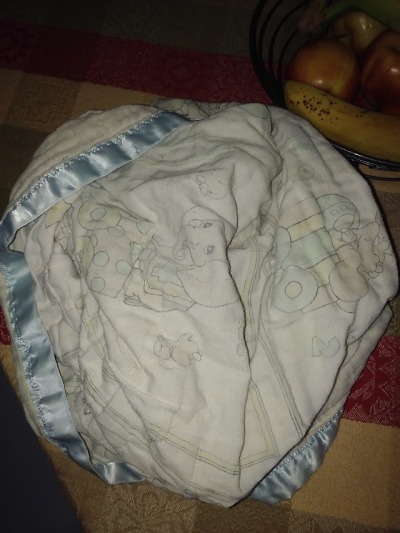 Blanky is a Precious Moments counting quilt. Blanky is my eldest child! He was born in 1995 which means that he is older than me by five years. Blanky has many animals on him and they each have a number associated with them from 1 to 10. He has a lamb, a bear, a sea lion, a pig, an elephant, a lion, a giraffe, a leopard, an ostrich, an unicorn, and a whale. There are 12 panels on him, one for each number, one to display the type of blanket he is, and one to write your name on so you know who the blanket belongs to. He has a strip of baby blue fabric around the edges of him. It feels a bit like satin to me. He has a lot of strings coming undone, but that is alright. He is just a very old baby blanket.
Basic Facts
I need you to know that Blanky is not a boy. He does use he/him pronouns, but he is not a boy. Sometimes his siblings call him their sister and sometimes it's their brother. Blanky doesn't really care. He's fine with either term. Blanky is a lesbian and does have a girlfriend named Petra. She is very cute.
Here are some little facts about Blanky. He can play many instruments like the viola, accordion, saxophone, and piano. He is the most musically inclined child out of the three. Blanky is also very goth. He is very interested in gothic things which includes gothic art and the subculture. Blanky does not dress in a gothic way that much, but you can tell from his one inverted cross earring that he is very serious about it. That's how he stays goth on his casual days where he doesn't feel like making an effort. Blanky is somewhat of a quiet person. He likes to keep to himself, but he is very extroverted around his siblings. He loves to play with them and he loves to make music with them. Blanky also loves to write poetry which sometimes ends up being another wonderful song of his or he might record himself reciting the poem. Blanky's got a little
Tumblr blog
that you can check out. It's mostly goth stuff or things that are close to that.
Here is a list of some bands that Blanky really likes:
Kittie
They Might Be Giants
Nova Twins
The Selecter
Bleed the Pigs
Here is a list of some movies that Blanky really likes:
The Lost Boys
The Spongebob Squarepants Movie
What We Do In The Shadows
The Brave Little Toaster
Head
Here is a list of some tv shows that Blanky really likes:
The Aquabats! Super Show!
Yo Gabba Gabba!
Rolie Polie Olie
Spongebob Squarepants
Blue's Clues
Design
No one has ever asked me why I draw Blanky the way that I do and I really want to talk about that! Obviously, he looks a lot different than he actually does since real him is a blanket and I draw him as a human being. One part of his design that I think is quite obvious is his hair color. It's blue because of the strip of blue that's along his edges. I gave Blanky vitiligo to represent all of the pictures that are on him. I needed that to be apart of him somehow and that's what I came up with. Blanky was given brown eyes because my eyes are brown and that's the best eye color to have. He is the oldest out of the three so he would be the tallest when Baby and Babysister are still kids, but then he'll end up being the second tallest once Babysister hits that growth spurt. I think he'd be around five feet eight inches. Blanky is also ambidextrous because he just seems like the kind of dude who would try to train his other hand to be as good as his dominant hand.
First Rendition - May 2018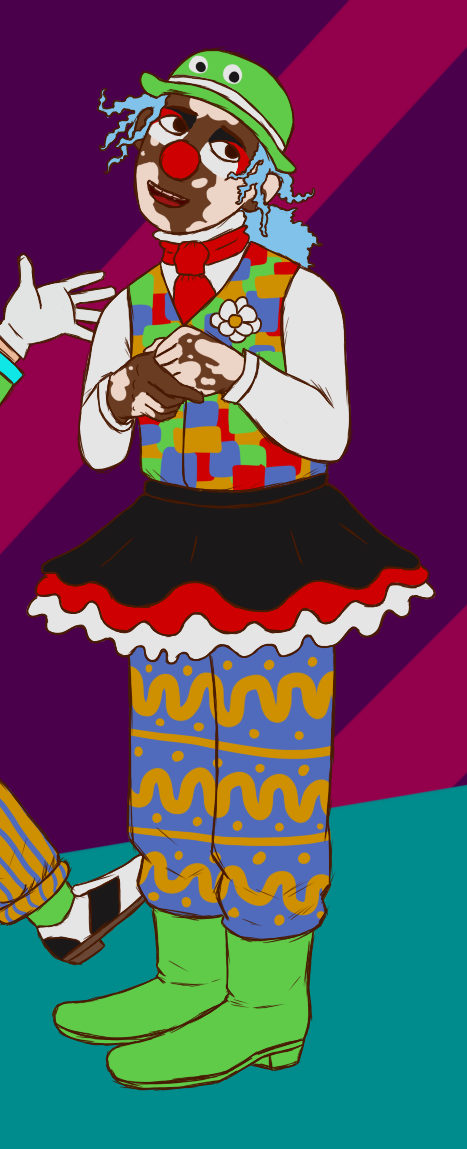 This isn't really the first drawing I've done of him, but it is the first drawing I did of him after I changed how he looked. How he looked before was not good at all. At first I made his hair long since in the older design it was also long. He has it tied up on a loose ponytail and I continued drawing him with that for awhile. I really enjoy his hat in this drawing.
Second Rendition - June 2018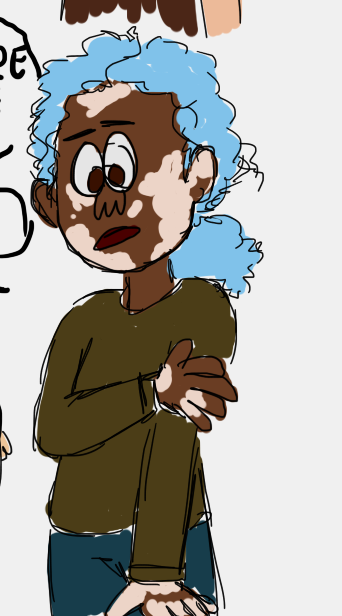 Nothing drastic has been done to his design. This is just Blanky in that one cute style that I do. I hate this hairstyle on him a lot. The loose ponytail makes him look like a founding father and it does not fit his aesthetic at all. He can still have long hair if he wants, but it just can NOT be styled that way.
Third Rendition - August 2018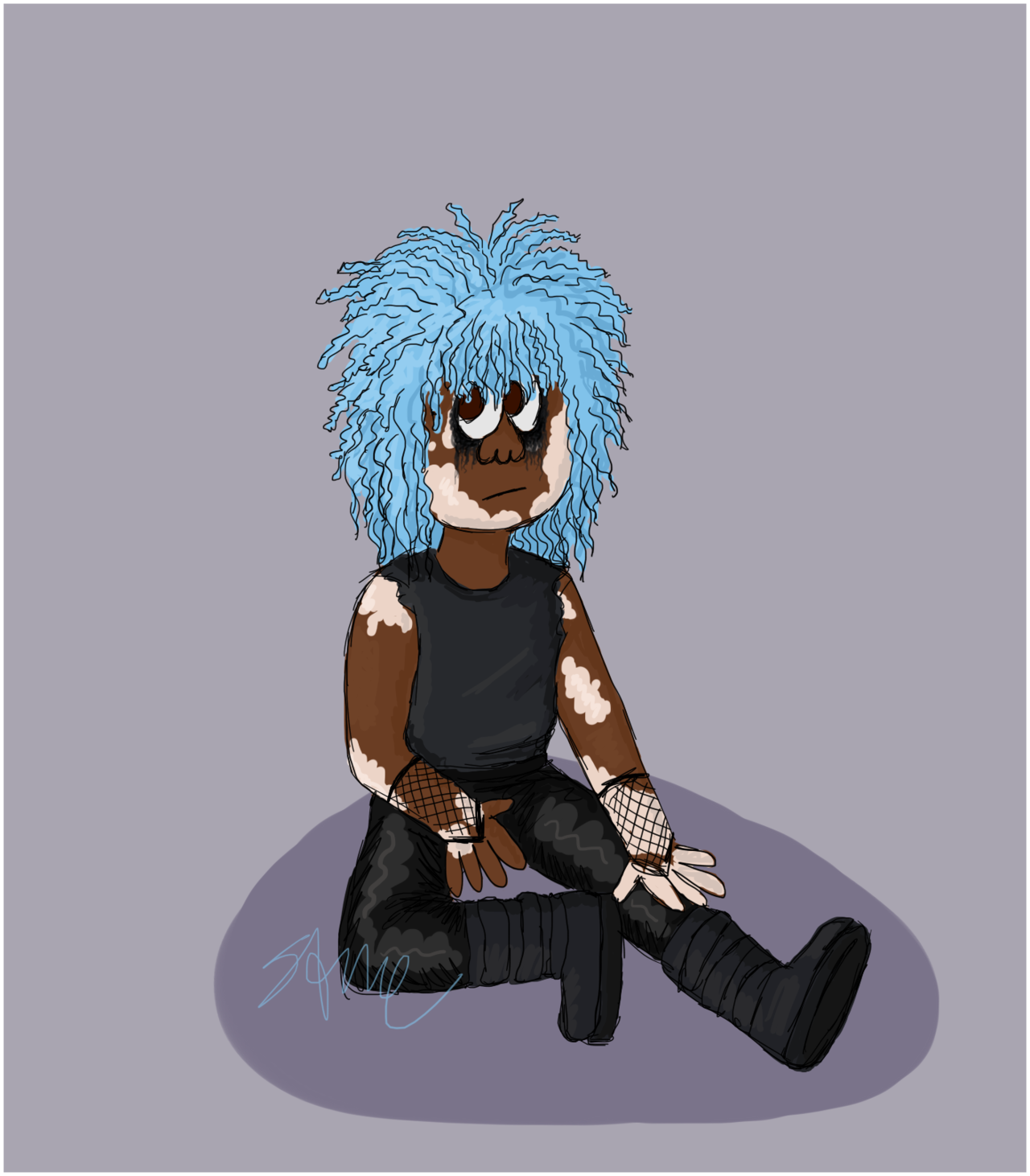 This is my first drawing of goth Blanky. I don't draw him extremely goth that much and he needs to be really goth more often. I really like the makeup that I gave him in this. The smeared eyeshadow that kind of makes him look like he was crying is so beautiful. I think Blanky is missing some lipstick, though. I also like the hair on him. He's got that traditional goth teased hair going on. I don't think he'd style his hair like this often, but I'm sure he'd do it from time to time. His outfit is very simple, but I wasn't very good at designing interesting outfits at the time.
Fourth Rendition - March 2019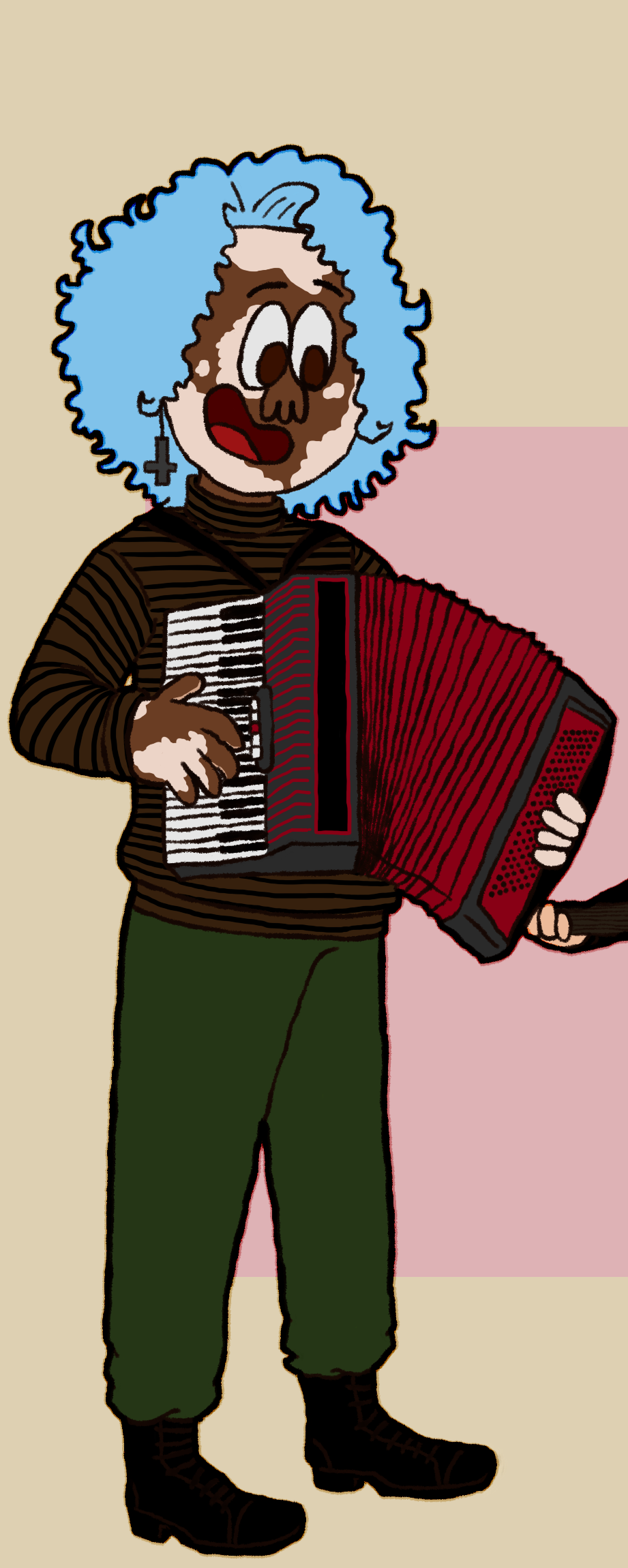 That accordion does not look very well drawn, but Blanky would definitely get a custom made one that's super goth looking. His hair has been cut! Blanky's design was influenced by John Linnell a little bit so that's why his hair is at that length and his turtleneck is literally something that Linnell owns. I like his hair a lot better this way. He looks less lame. There's still a lot missing here. He does have his inverted cross earring, but he needs more jewellery and a more interesting outfit. He needs better boots. The ones that he is wearing looks so boring. They're just plain combat boots instead of chunky platform boots with too many buckles. He also needs nail polish.