Steve Burns Versus They Might Be Giants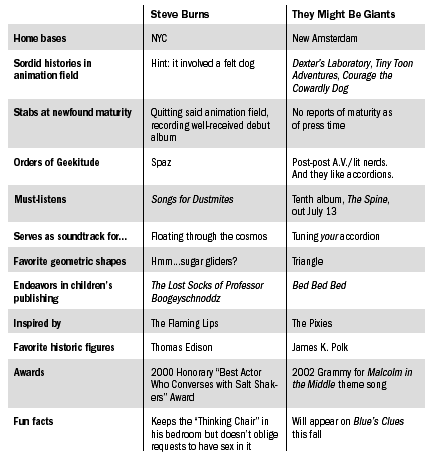 SOMEONE (
Julie Seabaugh
) was able to compare Steve and They Might Be Giants YEARS before Seymour (that's me) ever could have! Since this chart seemed like something I would have made, I have decided to update it. I kept the categories, but I dislike some of the wording especially her use of the word "sordid." Sorry that my version is less humorous, but I would never call Steve a spaz unlike Julie. She's also a comedy journalist and author so there's no way I could say anything funnier than her. I have the original picture of the chart up above and have typed it out down below so you can read it better.
| | | |
| --- | --- | --- |
| | Steve Burns | They Might Be Giants |
| Home bases | NYC | New Amsterdam |
| Sordid histories in animation field | Hint: it involved a felt dog | Dexter's Laboratory, Tiny Toon Adventures, Courage the Cowardly Dog |
| Stabs at newfound maturity | Quitting said animation field, recording well-received debut album | No reports of maturity as of press time |
| Orders of Geekitude | Spaz | Post-post A.V. / lit nerds. And they like accordions. |
| Must-listens | Songs for Dustmites | Tenth album, The Spine, out July 13 |
| Serves as soundtrack for... | Floating through the cosmos | Tuning your accordion |
| Favorite geometric shapes | Hmm...sugar gliders? | Triangle |
| Endeavors in children's publishing | The Lost Socks of Professor Boogeyschnoddz | Bed Bed Bed |
| Inspired By | The Flaming Lips | The Pixies |
| Favorite historic figures | Thomas Edison | James K. Polk |
| Awards | 2000 Honorary "Best Actor Who Converses with Salt Shakers" Award | 2002 Grammy for Malcolm in the Middle theme song |
| Fun facts | Keeps the "Thinking Chair" in his bedroom but doesn't oblige requests to have sex in it | Will appear on Blue's Clues this fall |
That chart above is originally from 2004. It is rather outdated with some of the information included. The newer version is down below. Sorry that it's very long, I really thought about this. Below that chart will have some more comparisons between the two because there are a few more similarities between them that didn't fit within the categories.
Steve Burns
They Might Be Giants
Home bases
They all have a house somewhere in the Catskills. I don't know their addresses. Maybe they all live together in one house because they're very close friends and that's what friends do. Anyways, here is Steve's old place if you want to look at it and judge his taste
Sordid histories in animation field
Blue's Clues
Dexter's Laboratory, Tiny Toon Adventures, Courage the Cowardly Dog, the Oblongs, Home Movies, Blue's Clues, the Drinky Crow Show, Xavier: Renegade Angel, Higglytown Heroes, Mickey Mouse Clubhouse, Coraline, Meet the Robinsons, Homestar Runner, and AdventureQuest Worlds if that one counts. I feel like this is not all of them and I could be leaving some out
Stabs at newfound maturity
Well, he made "I Hog the Ground" and then released a kids album titled Foreverywhere and went back to Blue's Clues so I think he is no longer mature. You will not hear him swear ever again
They probably won't release another kids album in the future so they have now fully matured as real adults
Orders of Geekitude
His first album was about science and also love. Geeks love those kinds of things, don't they?
The whole Here Comes ... series is pretty geeky. They also have some biographical songs like "Tesla," "James K. Polk," and "Meet James Ensor." You could also ask some huge TMBG fan about what makes their music so geeky. They would know more about that than Seymour
Must-listens
You have to listen to everything that Steve has ever touched or else Seymour will get very sad. He can help you find everything if you need any help. Just ask Seymour. He's become bit of a Steve expert
Everything they have ever made has been great, but you must listen to their kids stuff especially Here Comes the 123s and the Bed, Bed, Bed EP
Serves as soundtrack for...
Going to Silly Town with your friends
When you want to think that you're super smart and clever, but really you're just some plain dude
Favorite geometric shapes
Hey, wait a second ... what does the sugar gliders joke mean?
Yeah, triangle. What Julie said. I totally understand the joke here
Endeavors in children's publishing
The Lost Socks of Professor Boogeyschnoddz, Mr. Mumbles of Mumbles and Grumbles, Inc., and Foreverywhere
Bed, Bed, Bed, and Kids Go!
Inspired By
The Flaming Lips, Radiohead, David Bowie, They Might Be Giants, and other people
The Beatles, Elvis Costello, Walt Kelly, Ramones, and maybe some other people that I don't know about
Favorite historic figures
Thomas Edison
Nikola Tesla
Awards
He got nominated for an Emmy in 2001 for Outstanding Performer in a Children's Series. He lost to LeVar Burton which is a great person to lose an award to. I have no idea if he has ever been nominated for anything else or has won any awards at all
Won a Grammy award for Best Song Written for Visual Media in 2002 for "Boss of Me" as the theme song for Malcolm in the Middle. They won another Grammy award for Best Musical Album for Children in 2009 for Here Comes the 123s. They got nominated again in that same category in 2011 for Here Comes Science, but lost to Pete Seeger
Fun facts
Steve is able to balance things on his chin. Here are some pictures of him doing exactly that so you know that I am not lying. Apparently, he can also juggle fire, but I've never seen him do it. I've only seen him juggle objects that weren't on fire. Here is stuff that references it. Just press Ctrl + f and type in "fire" and you'll see it
I don't know if any of these men can do any circus tricks like Steve. It's rather sad and quite disappointing. Flans will hold his guitar up with one hand sometimes from the bottom of the body so I guess that's close enough
The chart is over so now we're on to a list of random comparisons. This part is just as important as the chart above. Sorry if I forgot something.
Dunkin' Donuts commercials. Here is Steve's commercial from 1998 and here are TMBG's commercials.
Blue's Clues! TMBG were on the last episode titled "Bluestock."
They both have made albums for kids. Steve has Foreverywhere made with Steven Drozd and TMBG has No!, Here Comes the ABCs, Here Comes the 123s, Here Comes Science, and Why? They are all great albums.
They both have also made childrens books. The Lost Socks of Professor Boogeyschnoddz and Mr. Mumbles of Mumbles and Grumbles, Inc. were never published, but here is art from them.
Musician Jim O'Connor has worked with both of them. He appeared on a few Blue's Clues songs, but he was on the song "Stick Around" from Songs For Dustmites. He's been on multiple They Might Be Giants tracks.
TMBG and StevenSteven are both bands consisting of two white men with the same first name. TMBG has been a full band for decades now, but whatever. The two men named John are still in it.
This isn't really the same, but Linnell ranking number nine in People magazine's online poll of "the Most Beautiful People of 1998" reminds me of Steve being one of People magazine's "100 Most Eligible Bachelors" of 2000.